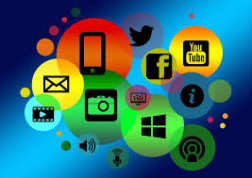 Reading Online versus Watching Videos
Reading Online versus Watching Videos by Erin French
To read or not to read…what's going on online is reshaping communication, having created new expectations regarding the speed and format of communication in today's increasingly interconnected worldOnce again Erin French has given us a glimpse at what people are actually doing and saying about how they communicate – and what their expectations are!
Time spent reading online versus watching videos online varies from Millennial to Millennial, whether it involves understanding and interpreting current events or seeking entertainment.
Josh Mabrey, a bartender traveling with a mobile cocktail service called Road Soda, feels that, for him, reading online versus watching videos online tends to vary. "It's probably about 50/50," said Mabrey. "With me having dyslexia, it's easier to watch videos, but some stuff doesn't come in that format so then I have to read."
Carolyn Turner, a server and bartender at Texas Roadhouse in Austin, Texas, feels that she definitely spends more time reading online. "I like to read articles or share articles on social media as well as the news," said Turner. "Sometimes the news articles have both a video to watch and the article, and I hardly ever watch the video unless it's showing the scene of an accident and I want to visualize what happened or where it occurred."
Reading online versus watching videos…a hot topic these days
Daniela Moreno, a student at Austin Community College in Austin, Texas, spends roughly an hour watching videos online rather than reading online. "I'd honestly rather watch videos," said Moreno. "Because then I can hear and see what needs to be learned."
Billy Shea, a photographer based out of Austin, Texas, mainly likes to physically read books over doing anything online because he feels that service shouldn't be required to learn something new, but he still enjoys reading and watching videos online from time to time. "I spend 5 hours a week watching and reading online," said Shea. "I can find my interests, like subjects I like."
Reading online versus watching videos…how will it  reshape society…and us?