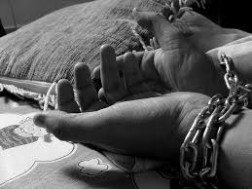 From Prison to debt is a fact of life for many former inmates. There is a path that runs from prison to debt for many who have been incarcerate,. and this fact is not widely known by the public. What this means is that it is that much harder for former inmates to get back into society and get their lives together.…from Slate Magazine,
When David Silva returned in 2006 from serving 38 months in New Jersey state prison for offenses related to his substance abuse, he faced more than $35,000 in debt. He didn't owe this money to private creditors; he was in debt to the government for his prosecutions and stints in prison. Silva's debts for "use" of the criminal justice system included public defender fees, various surcharges that went to things such as police uniforms and drug-use prevention, and probation supervision fees, as well as restitution and fines.
"Silva's experience highlights an increasingly fundamental fact about encounters with the criminal justice system: long after a formal sentence ends, the punishment continues…"
Silva's debts also included about $10,000 for substance abuse treatment he received in prison. Though he was working full-time when he got out, the amounts owed were crushing and were a barrier to meeting his basic needs. His debt also precluded him from getting a driver's license, which only made it harder for him to get back on his feet. Silva ultimately filed for bankruptcy.
Inmates take on mammoth-sized debt
This path from prison to bankruptcy is all too common. As policymakers across the country increasingly move toward rethinking mass incarceration, the excessive costs imposed on criminal defendants remain roadblocks to people seeking to transition back to their communities.
Even a decade after Silva left prison—and on the other side of bankruptcy proceedings—the burden imposed by criminal justice debts lingers. His efforts to move out of his old neighborhood to a community with lower crime rates was for years stymied by landlords who balked at his credit report. When he could finally obtain a car loan, he paid an inordinately high interest rate due to his debts…"