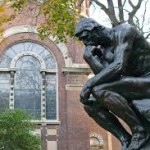 The Ivy League…Just Say No!…The Ivy League, Mental Illness, and the Meaning of Life…William Deresiewicz explains how an elite education can lead to a cycle of grandiosity and depression.
By Lauren Cassani Davis, AUG 19, 2014…theatlantic.com
The Ivy League…Just Say No!
The former Yale English professor William Deresiewicz stirred up quite a storm earlier this month with his New Republic essay "Don't Send Your Kid to the Ivy League"—a damning critique of the nation's most revered and wealthy educational institutions, and the flawed meritocracy they represent. He takes these arguments even further in his upcoming book, Excellent Sheep: The Miseducation of the American Elite and the Way to a Meaningful Life.
Part cultural commentary, part philosophical treatise on the meaning of education itself, the book reads like a self-help manual for ambitious yet internally adrift adolescents struggling to figure out how to navigate the college system, and ultimately their own lives. Deresiewicz, who is also the author of A Jane Austen Education: How Six Novels Taught Me About Love, Friendship and the Things That Really Matter, spoke to me on the phone from his home in Portland, Oregon.
How does the phrase "excellent sheep" describe the typical student at an elite college today?
The most interesting thing about that phrase is that I didn't write it myself. It came out of the mouth of a student of mine, and just seemed perfect. They're "excellent" because they have fulfilled all the requirements for getting into an elite college, but it's very narrow excellence. These are kids who will perform to the specifications you define, and they will do that without particularly thinking about why they're doing it. They just know that they will jump the next hoop.
Do you see a connection between this "hoop-jumping" mindset and other trends, like mental health issues, on college campuses?
The mental health issues, absolutely. People have written books about this—adolescent therapists like Madeline Levine, who wrote The Price of Privilege. These students are made to understand that they have to be perfect, that they have to do everything perfectly, but they haven't turned to themselves to ask why they're doing it. It's almost like a cruel experiment with animals that we're performing—every time the red light goes on, you have to push the bar. Of course they're stressed.
This is also why they're sheep, because they have never been given an opportunity to develop their ability to find their own direction. They're always doing the next thing they're being told to do. The trouble is that at a certain point, the directives stop. Though maybe not, because even when it comes to choosing a career, there are certain chutes that kids, especially at elite colleges, tend to get funneled towards. And if you've always been told what you're going to do, these options are the easiest in terms of making decisions, though not necessarily easiest in terms of the work involved.
You've observed that Ivy League students have an internal struggle with both "grandiosity and depression." Can you explain this further?
Alice Miller wrote about this 30 plus years ago in the classic The Drama of the Gifted Child, but I had to experience it to see it for myself. The grandiosity is that sense of "you're the greatest, you're the best, you're the brightest."
This kind of praise and reinforcement all the time makes students feel they're the greatest kid in the world. And I would say that this is even worse than when I was a kid. Now there's a whole culture of parenting around this positive reinforcement.
These kids were always the best of their class, and their teachers were always praising them, inflating their ego. But it's a false self-esteem. It's not real self-possession, where you are measuring yourself against your own internal standards and having a sense that you're working towards something. It's totally conditional, and constantly has to be pumped up by the next grade, the next A, or gold star.
As Miller says, what you're really learning is that your parents' love is conditional on this achievement. So when you fail, even a little bit, even if you just get a B on a test, or an A- on a test, the whole thing collapses. It may only collapse temporarily, but it's a profound collapse—you feel literally worthless.
Originally published as The Ivy League, Mental Illness, and the Meaning of Life