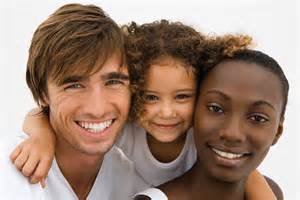 Interracial Marriage for all Americans Pew Report…the idea of interracial marriage for all Americans is catching on. Marriage across racial and ethnic lines continues to be on the rise in the United States.The share of new marriages between spouses of a different race or ethnicity from each other increased to 15.1% in 2010, and the share of all current marriages that are either interracial or inter-ethnic has reached an all-time high of 8.4%.
The upward trend of intermarriage is many decades old. In 1980, fewer than 7% of new marriages were intermarriages, less than half the share now. Among all marriages, the share of intermarriages in 1980 was about 3%.
Findings from a number of recent Pew research surveys show that just as intermarriage has become more common, public attitudes have become more accepting. More than four-in-ten Americans (43%) say that more people of different races marrying each other has been a change for the better in our society, while only about one-in-ten think it is a change for worse. Being a minority, younger, more educated, liberal and living in the Eastern or Western states are all traits associated with those who think more positively about intermarriage.
…and this from a Pew Center report by Kristen Bialik published in 2017:
A growing share of adults say interracial marriage is generally a good thing for American society. Nearly four-in-ten adults (39%) say the growing number of people marrying someone of a different race is good for society, up from 24% in 2010. Adults younger than 30, those with at least a bachelor's degree and those who identify as a Democrat or lean Democratic are especially likely to say this.
Americans today also are less likely to oppose a close relative marrying someone of a different race or ethnicity. Now, 10% say they would oppose such a marriage in their family, down from 31% in 2000. The biggest decline has occurred among nonblacks: Today, 14% of nonblacks say they would oppose a close relative marrying a black person, down from 63% in 1990.