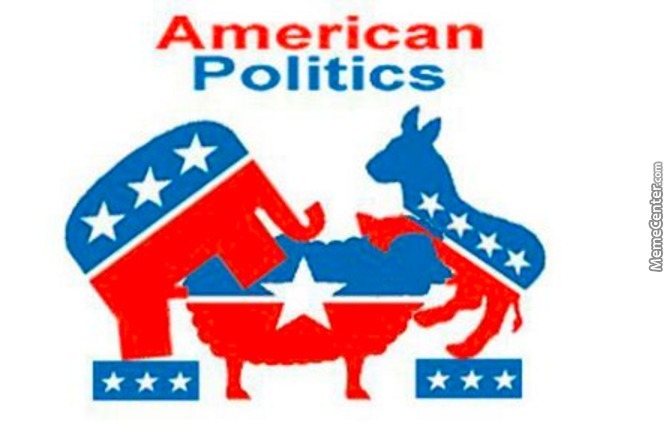 How to talk to a Republican…afraid your right-wing uncle is going to take you to the proverbial cleaners with your political discussion that invariably follows the pumpkin pie and coffee? Don't worry. Help is on the way. Just keep on reading and click on the link to learn all you ever wanted to know about how to talk to a Republican!
Sooooo…it's Thanksgiving dinner and you, in all your pristine Liberal splendor, find yourself sitting just across the table from that Republican uncle who thought that Ronald Reagan was heaven-sent and thinks that Rush Limbaugh is the epitome of wit. Your uncle always gave you a crisp, clean $10 bill on birthdays when you were a tyke and has a spot in his heart for you that's softer than butter. The problem is that when he starts carrying on about how the Socialist Obama is secretly working for Beijing and Havana (on days when he is not working for Al Qaida and fifty other terrorist groups) you need to grip the table hard with both hands to keep from jumping over the table and choking some sense into him –  or at least screaming at him like a crazy person.
How to talk to a Republican
Well, it can be rough indeed. When coffee and that second slice of oh-so-good home-made pumpkin pie are served, we all know that the conversational fireworks are ready to launch. You're about to get into a verbal cage fight with your-beloved-but-Bill-O'Reilly-loving uncle and your deepest wish is for this Thanksgiving showdown to be different.
In other words, this time you want to win …or at least hold your own so you don't end up making that long drive home with a swarm of unsaid retorts floating around in your noggin.
Well folks, at last you can do just that with your favorite Neanderthal-leaning  and near-geriatric blood relation with this terrific website that exists just to help you feckless Democrats and Liberals to learn how to stick it to your interlocutor instead of going home with a bad tummy after internalizing the verbal/political a___ kicking you got last year and every year from that feisty old aunt or uncle! You know which ones I'm talking about, don't you? That's right, we're talking about the one whose unventilated mind makes you wonder about who you are and what gene is waiting to make you similarly ogre-like in your dotage
Ready to rumble? Read on!