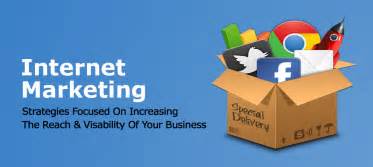 Five Key Steps to Internet Marketing…this article is recommended for all web site owners, web mavens and developers who want to make full use of the power of Google Analytics and social media metrics.My good friend and trusted business partner, Boom San Agustin, recently shared an info graphic on Facebook about the five key steps to marketing a business online. As you can see it a simple, yet powerful plan to get your business in front of not only a bigger audience, but a more engaged audience.
DMAI, or Decision Making, Analytics & Intelligence – https://dmaiph.wordpress.com – covers a wide range of topics in the field of web development, the internet, internet marketing et al…
Besides actually following this recipe step by step, I thought it also important to add what kind of analytics you should have behind each of the steps.
Design and launch a website to establish your brand. I see two-way to do some solid analysis here before taking step one.
Frist, do an assessment of what you want to do with your site. There are hundreds of free or inexpensive tools to design and launch a web presence. It's easy to through a site, but how much will it cost long-term, who will maintain it, do you plan on processing transactions thru the site? Your website should be at the center of your strategic plan and should be a living part of your business.
Second, unless you use a hosting service that provides analytics internally, look into google analytics. Its is one of the most powerful analytics tools out there. Make sure your hosting service is compatible as the free web site analytics tools Google offers are quite powerful. You need to pay a lot of attention to the metrics behind your site. What pages aren't getting the traffic you suspected? Where do browser spend the most time? Which pages do they leave your site from?
Create a blog.
Ideally you can combine the two so your website and your blog are either the same or are easily connected so you don't have to double your workload in sharing content. Again, I strongly suggest you look for hosting sites and/or blog sites that have built-in analytics. WordPress has some very strong analytics tools built into the free blog hosting site. You want to quickly and easily know what posts are the ones that generate the most engagement.
Get followers.
Having easy ways to get followers is important. Most web site and blog site platform have widgets that allow you to get followers via Twitter, Facebook, etc. Maximize these. And then set up a strategy. Try and post your blog on certain sites at certain times. For example if you target market for your business is students.. .then posting your blog during the middle of the school day is not a good plan. Instead set up your posts (either manually or with an auto post feature) to make sure the content is delivered when they are most often online… late afternoon or early evening.
Select Media.
You need to really think again about who your market is and what media they use the most…
This is a partial re-posting of "An Analyst's Take on Five Simple Steps to Digital Marketing"…read entire article
follow/like https://www.facebook.com/ourknowledgeasia