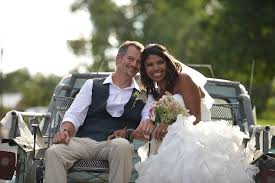 Virginia ranks highest in U.S. for black-white marriage. When Andrew Bernard started chatting with Alissa Landry at the Bayside rec center where she worked, he didn't notice her darker skin. He noticed that she was fun to talk toby Denise M. Watson
The Virginian-Pilot
© March 17, 2012
Landry didn't see a white dude who stopped to see her whenever he came in to work out. She saw a cute guy. She gave him her phone number and asked him to hang out with her and some friends.
The two are now engaged to be married in May.
"I think that it's not so strict with dating outside of your race anymore," said Landry, who has French, Irish and black roots. "You fall in love with who they are, and that's OK nowadays."
Virginia ranks highest for the rate of black-and-white marriages
According to a recent Pew Research Center study, Virginia ranks highest in the country for the rate – 3.3 percent – of black-and-white marriages between 2008 and 2010. The Pew study didn't look at the whys, just at the demographics, such as income, of the couples.
Just to put the DC interracial marriage situation in a national perspective, here is another report from the Pew Research Center re intermarriage across the U.S. by metro area that was published on 05/18/17:
Increasing Share of newlyweds married to someone of a different race
"The share of newlyweds married to someone of a different race or ethnicity has been steadily climbing in the United States. In 1967, 3% of newlyweds were intermarried, and by 2015, that share had risen to 17%. Across metropolitan areas, intermarriage rates vary dramatically. Honolulu has the highest rate of intermarriage – 42% of newlyweds have a spouse of a different race or ethnicity. On the other hand, in Jackson, Mississippi, and Asheville, North Carolina, just 3% of the recently wed are intermarried. As is the case nationally, within metro areas, intermarriage rates differ across races. For instance, among newlyweds in Chicago, 35% of Asians are married to someone of a different race or ethnicity, compared with 24% of Hispanics, 14% of whites and 13% of blacks."
…read more at http://hamptonroads.com/2012/03/virginia-ranks-highest-us-blackwhite-marriages