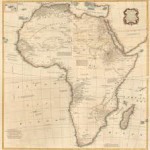 Baby boomer looks at Africa…when I was in grade school, back in the nineteen fifties, most classrooms – not only in my school but all over the United States and elsewhere – had a map of the world  that was large enough to command one's attention immediately on entering.Two colors stood out on these maps: red and green.The red represented the British Empire, and green that of the French. In both cases, these colors were most prevalent on that part of the map which represented Africa.
Sub-Saharan Africa a Mythical Place
Africa – especially the sub-Saharan portion – was, for us, a mythical place; filled with lions and leopards; elephants and rhinos and giant herds of herbivores whose appearance at the nearest watering hole often meant "lunch" for the canine-toothed predators who knew the weaknesses and foibles of their non-carnivorous neighbors.
As far as the human population was concerned, our notions were conditioned by the awful American racial prejudice of the day; built up over centuries and strengthened by a rarely challenged belief in white superiority..
 racist picture of Africa tainted the popular imagination
Negative ideas and an utterly racist picture of Africa and Africans had thoroughly tainted the popular imagination; encouraging us to believe that many, if not most, Africans were ruled by merciless leaders who cared for nothing but maintaining absolute power over their fellows (who were, in turn, so Xenophobic that even the most well meaning visitor was likely to find him or herself in serious trouble for having dropped by without an invitation).
Americans needed reprogramming re African history
At the same time, the achievements of African civilization and culture were ignored. Africa was referred to as the "Dark Continent," a giant land mass whose only hope lay in salvation from without.
I was lucky enough to have a high school teacher whose life's passion was Africa; particularly sub-Saharan Africa. His class in African studies filled up a few days after registration began, and Mr. Mulvihill lost no time in deprogramming us from the wrong ideas we'd acquired about Africa from watching Tarzan films et al.
The achievements of African civilization and culture were ignored.
Then came the late nineteen fifties and the early nineteen sixties; a period that saw the end of European empire. Within a five year period, almost the entire continent of Africa freed itself from colonial occupation. From Algeria, Tunisia and Morocco (just a stone's throw from the homeland of their French occupiers), to the Western, Central and Eastern Africa, self-rule was again the norm for most African peoples.
Great numbers of Africans emigrated to Europe in search of work
This period of liberation was also, however, one of migration, as great numbers of Africans emigrated to Europe in search of work. Young Europe met young Africa, as the culture of African peoples worked its way into that of post World War II Europe. Through this cultural exchange young Europeans were introduced to the richness and scope of African culture through daily contact with young Africans.
A generation of leaders emerged in Africa at that time, as Senghor, Nkrumah, Lumumba and Toure became known the world over. Their lives spanned historical epochs as well as continents, and they were marked as a generation characterized by a rare blend of intelligence, vision and political savvy.
At the same time, the civil rights movement in the United States was finally beginning to make White Americans aware of an American history that was based on a distorted view of Africa –one that had paved the way to the enslavement and deportation of so many of its inhabitants by Europeans and Americans.
Although the worldview of American children in the nineteen fifties was inherited from our colonial-era parents, many of us were – thankfully – also endowed with an evolutionary gene, so to speak; a gene that led many of us to question the canon of racial superiority that tried to justify Western rule over Africa and over all the peoples of color who comprised what was later referred to as the "Third World."
White Americans aware that the oppression of Black Americans could not continue
White Americans were made aware, after the church bombings and government –sponsored violence committed against Civil Rights marchers and workers in the American South, that the oppression of Black Americans could not continue if America was to be a good place to live – for anyone.
racism that had been ignored finally questioned and condemned
Three hundred fifty years of history were tried and found guilty in this regard, and the racism that had been ignored, embraced and/or taken for granted by so many Americans was finally questioned and condemned by many.
African exchange students started to attend American universities; including all-Black colleges and universities in the United States (among them was a Kenyan named Obama, whose son Barack became president of the United States in 2008).
Fresh on the heels of their own countries' successful struggle against colonial domination, they encouraged Black Americans to likewise rebel against second class status through organized political action against the White power structure.
With the advent of cheap air fare that came about with the debut of transcontinental jumbo jets in the nineteen sixties and seventies, great numbers of tourists and business people traveled abroad – meeting Africans in Africa, Europe and elsewhere. They sensed that a new wind was blowing out of Africa. This wind, based on equal parts tradition and a willingness to implement new strategies to meet the challenges presented by this modern world of ours, promised and continues to promise new and great things to come for that continent and for humanity.
"Fast forward" to 2015.
More than five of the most rapidly expanding national economies are in Africa and tens of millions of Americans are undernourished. The entire world has taken notice of this trend; and now all eyes – fiscally, politically and culturally – are turned towards Africa.
What will happen there?